My naughty dears, naughty dears,
François Monnier, the editorial director of the newspaper Investir, frankly is neither a conspirator nor a great revolutionary in the pay of the communist forces and in the service of the CGT, so when he gratifies us with a weekly editorial entitled "Is it all gone? makes me want to read your prose.
What does he say to his readers?
That the risk of a synchronized global recession increases.
"Xi Jinping, Vladimir Poutine and Jerome Powell lock themselves in a relentless logic of diminution. The upcoming events in May will be decisive for the stock market."
He is absolutely right that "the worst can still be avoided, but the environment continues to deteriorate. In the short term, we have to be careful."
Certainly, except that no one else seems to want to avoid the worst.
Yesterday I was flipping through some comments where some readers claimed that nuclear war was impossible because it was mutually assured destruction.
The temptation of the worst.
First, when everyone thinks the same thing, nobody thinks anymore. Believing that mutually assured destruction is reason enough to rule out nuclear war is a big mistake, much like the old days when we thought France risked nothing with its Maginot line.
Why are you going to tell me that a nuclear war would be possible today?
Because nuclear energy, like it or not, is no longer seen in the same light. Today, some strategists think they can win a nuclear war, which raises the essential and fundamental question of what it means to win a nuclear war.
For 50 years, it was considered that no one can win a nuclear war.
If this belief were false, it would considerably change the population's perception of the risk of nuclear war.
Between low-powered weapons, those with little radioactive fallout, between missile defenses and ballistic shields, between ultra-fast first-strike weapons that leave no chance of a possible aftershock, nuclear war is also no longer viewed in the same way by the military or by the military. politicians. Furthermore, the Bush administration raised eyebrows in its day when it spoke of preemptive strikes, including nuclear ones, in its new doctrine dating back to 2002, that is, 20 years ago!
It's the same for the economy.
We may believe that it is in no one's interest to unleash the greatest miseries and catastrophes, but that is exactly what is happening.
Central banks are raising their rates to fight inflation, which is mainly linked to a military situation in Ukraine, where no one is trying to make peace, and a health situation in China, where no one wants to stop the policy frenzy 0 Covid .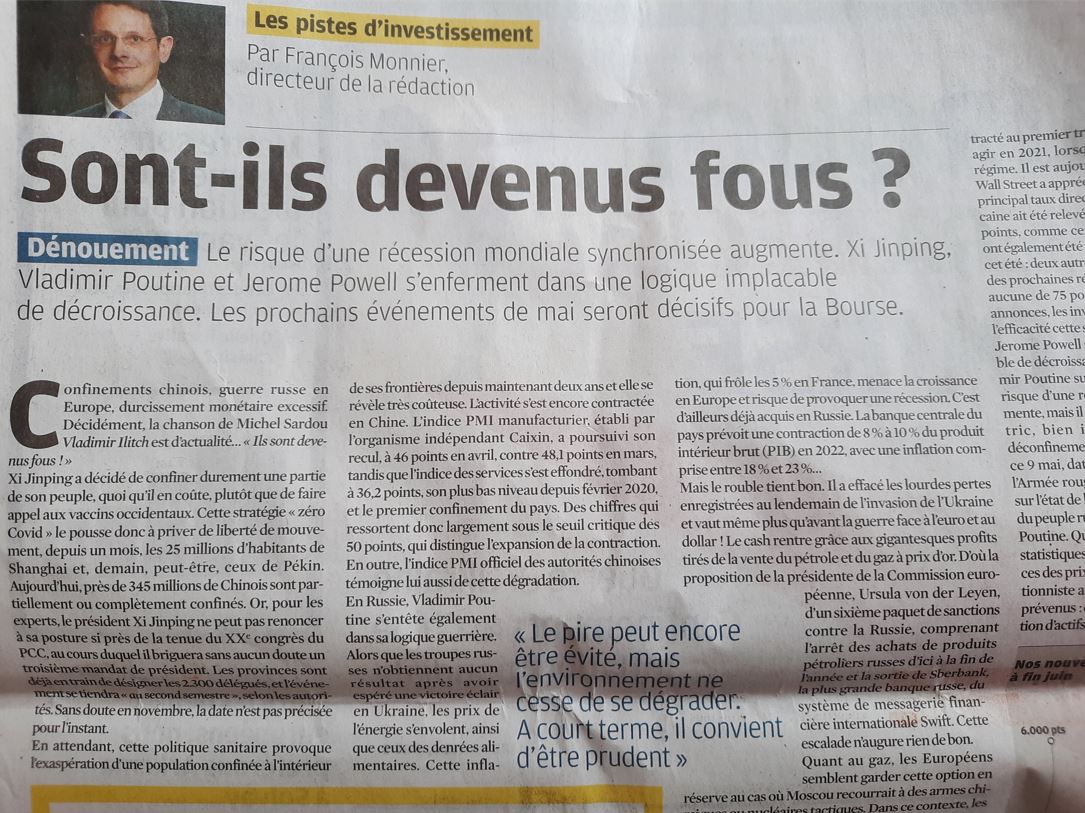 Raising rates is a mistake in the current context!
In reality, whoever looks objectively at the situation knows what must be done.
It would be necessary to negotiate with Russia to obtain conditions of peace that are satisfactory for all. The price of energy would fall and therefore inflation significantly.
Benevolent and coordinated health policies must be negotiated with China to avoid production disruptions and logistical problems that lead to shortages and inflation.
Prices would then drop significantly and we would find an acceptable level of inflation, albeit permanently higher than during the 30-year deflationary period we have just experienced and ended.
In reality, it would be necessary to agree to share the resources, pay them at the right price and also share the wealth in the value chain more equitably.
But we don't want that.
Because we want to dominate.
We want to "lead the new world order", as US President Joe Biden said a few weeks ago, without any ambiguity.
In any human relationship, problems arise when the parent wants to tell the child how to live, the neighbor's neighbor how to do it, and when you want to impose your way of seeing things and doing them, then the one on whom both options are imposed. He obeys and submits. He fights and conflicts.
We are there.
So yeah, everyone went crazy. Intoxicated by the will of omnipotence, and when everyone goes mad, then if the worst is never certain, the best becomes less and less certain, and destructive impulses can take over, the situation escaping all rationality, we enter a world where everything is possible. All. Even the worst.
It's already too late, but all is not lost.
Get ready !
Carlos SANNAT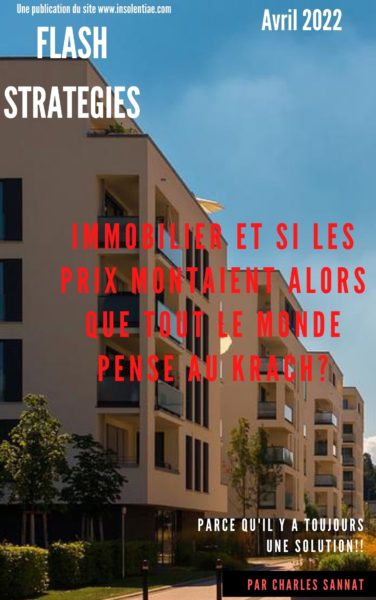 "Insolentiae" means "impertinence" in Latin
To write me [email protected]
To write to my wife [email protected]
You can also subscribe to my monthly newsletter "STRATEGIES" which will allow you to go further and in which I share with you the concrete solutions to implement to prepare you for the next world. These solutions are articulated around the PEL approach – heritage, employment, location. The idea is to share with you the means and methods to put your personal and family resilience into practice.
"To stifle peaceful revolutions, violent revolutions become inevitable" (JFK)
"This is a 'presslib' article, that is, free of total or partial reproduction, as long as this paragraph is reproduced next. Insolentiae.com is the site on which Charles Sannat expresses himself daily and offers a naughty and uncompromising analysis of economic news. Thanks for visiting my website. You can subscribe to the daily newsletter free of charge at www.insolentie.com. »